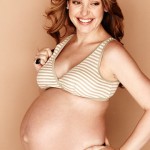 As the season changes and your bump gets bigger your wardrobe will need some urgent additions. Looking lovely through your pregnancy doesn't have to cost much if you stick to buying just a few maternity wear basics.
Listed below are suggested basics to buy for cooler weather. These are all about bottoms – pants, skirts, and leggings. It is easy to find stretch cotton tops and roomy jackets in ordinary clothes shops that won't have a maternity wear price tag.
Long leggings: With a banded waist to stretch with your bump, a pair of maternity leggings will be essential for winter.
Stretch denim skirt: A basic maternity denim skirt with a banded waist will be great is all sorts of casual situations, especially when worn with your leggings on cooler days.
Basic black A-line skirt: For a work basic buy a maternity A-line skirt with a folding stretch waist in a basic colour. Team it too with your leggings when you feel the cold.
Basic black pant: Buy a pair of maternity black pants in an easy care stretch fabric that you can wear in just about any situation: work, play and when out in the evening. A folding waist band will allow for a medium or low rise fit.
Cargo Pants: A pair of versatile maternity cargo pants with a comfortable waist band and legs that button up for different lengths will get lots of wear in various weather conditions.
Maternity Pajamas: A great buy for your hospital bag, get a pair of maternity pajamas with a crossover bodice for easy breastfeeding.
When buying these basics make sure you shop around; you'll be surprised how many online maternity wear shops there are. Look for an online store that offers free shipping when you order over a certain amount. Also, make sure you can return items with a full refund, just incase it isn't the right size.