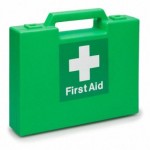 The amount of information available on safety for your baby can make your head spin.
To help you get ready for baby, here are ten tips on what to organise now during pregnancy so you know the hectic first few months with your baby will be spent in a safe environment. We have provided some recommended resources to help you understand the safest products to buy and helpful organisations to contact.
1. Keep simple SIDS info close by
There is a lot to remember about keeping your baby safe from SIDS (Sudden Infant Death Syndrome). Other members of your family that will occasionally help out may not be as informed as you are. For the benefit of all, print this handy simple guide from SIDS and Kids Australia and keep it near and their door hanger to hang near baby's cot.
2. Attend a first aid course
Ask your local maternal health centre for any first aid courses for infants that they might be running in the near future.
3. Keep important numbers close
Store these important numbers in your mobile as well as written on a piece of paper near your home phone:
000 emergency services
Poisons Information Centre
Nearest Children's Hospital
Family Doctor
Chemist
4. Buy a brand new car seat

When buying your car seat for your baby make sure it meets the current Australian safety standards. Also, it is recommended to buy a new seat so you know it has not been in any accidents. Check out www.carseatsafety.com.au for help choosing the right seat.
5. Buy a cot that meets Australian Safety Standards

Choose a cot that meets the Australian Safety Standard AS/NZS 2172-2003. Also, do you best to ensure it is coated in non-toxic paint. If you cannot find out this information on the cot you are looking at don't buy it.
6. Buy the correct mattress for your cot
It is important that your cot mattress fits correctly so baby can't get trapped between the mattress and the cot rails.
7. Research safe toys
Unfortunately, safety is not always paramount to toy manufacturers and toys may contain toxic chemicals and pose safety risks. To help familiarise yourself with toy safety and how to avoid toxic toys check out www.healthystuff.org for their toy section. Although it is an American site it is still relevant as Australian toy stores stock a lot of products from American manufacturers.
8. Choose a recommended pram
There is an overwhelming range of prams and strollers. To help you choose a safe model look to Choice's quite recent review, published in December 2010, of 20 products on the Australian market. . You will need to become a member to read it or you can check with your local library if they have a Choice account available for you to use.
9. Buy a recommended bassinet
If you plan on using a bassinet be aware there is no Australian Standard specifically for them. Look to Choice again for their recent report, published in January 2011, which shockingly found only one model to recommend.
10. Be picking with your change table
Look for a change table that is the correct height for you, stable, strong, has no sharp edges, no potential finger and limb traps and is curved to prevent baby rolling or sliding off it.