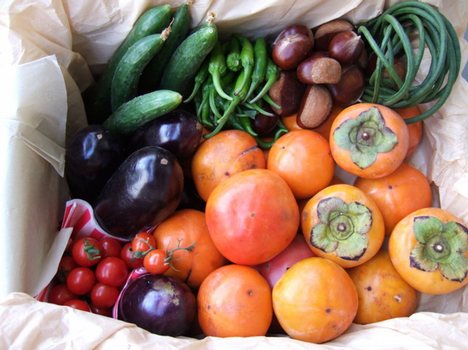 Eating organic during your pregnancy is a good goal to have because:
You'll avoid dangerous pesticides which have been linked to causing cancer, neurological disorders, and damage to the immune and reproductive systems.
Your food will be more nourishing for you and your baby as it will be at its freshest.
You will automatically be eating according to the seasons, providing important variation in your diet.
Best of all, it will taste a lot better than the stuff lying around for month before it gets to your plate.
But organic food can be pretty expensive too. Here are some tips to finding organic produce and fitting it into your household budget.
1. Benefit from other consumer's choices
When you stop to look you'll be surprised how many products on your supermarket's shelves are now organic since so many consumers now prefer them.
On your next shop switch to these products and see how much your weekly bill increases; it may not be that much:
Switch to organic milk, yoghurt, and butter.
Buy organic flour, pasta and olive oil.
2. Find an organic vegetable and fruit stall at your local market
Head down to your local food and produce market on Sunday towards the end of the day to see what organic vegetables and fruit are on offer. Many traders reduce the price of produce as the market draws to a close.
Buy one week's worth of produce that you would normally buy elsewhere and see how much it differs in price.
3. Investigate having your vegetables and fruit delivered to your door
Search the internet for providers of organic vegetable and fruit boxes that you can have delivered to your door. They may not be as expensive as you think as this sort of business has grown significantly in recent years.
Tell one of the companies you would like to trial their service for one week. Compare the price and quality to what you found at the market, as well as what you would normally spend on non-organic produce. You might be surprised to find it may not be that much more over a week.
Another benefit to eating organic is that you won't waste much food. Once you have put more effort into sourcing your fruit and vegetables you will want to make sure you use it all up. It tastes too good to waste too! In the end you'll find you are buying, and therefore throwing out, less food.
4. Work with what you can afford
If you find the above actions don't work for you and your budget you can wash all your non-organic fruit and vegetables thoroughly and try to eat a variety of foods to avoid ingesting the same pesticides repeatedly.