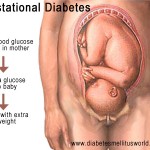 Gestational diabetes might mean lots of treats are off the table for you so it is time to get creative. Here are two recipes for sugar-free treats that are delicious as well as good for you and your pregnancy.
Sugar-free apple muffins
These tasty muffins make great use of apples which are in season right now. There is no refined sugar in the recipe and it contains the right carbohydrates that are broken down slowly, such as oat bran and sultanas.
1 cup wholemeal flour
2 teaspoons baking powder
1 cup of oat bran
1/4 cup sultanas
1 teaspoon gound cinnamon
1/4 teaspoon organic sea salt
1 egg
2/3 cup milk
1/4 cup grapeseed oil
2 cups grated apple
1/2 cup chopped walnuts
1. Preheat oven to 180 degrees Celsius.
2. Sift flour and baking powder into a large bowl. Mix in oat bran, cinnamon, salt and sultanas.
3. In a separate bowl whisk egg, milk and grapeseed oil together.
4. Make a well in the dry ingredients and add the egg mixture and beat.
5. Stir in grated apples and chopped walnuts.
6. Grease a muffin pan and spoon mixture evenly into the cups.
7. Bake in pre-heated oven for 20 minutes or until a toothpick comes out clean.
8. Allow to cool.
Sugar-free banana bread
Likewise, this yummy recipe contains no refined sugar. Instead there is bananas, orange juice and sultanas for your slow releasing carbohydrates.
2 cups wholemeal plain flour
2 teaspoons baking powder
1/2 teaspoon nutmeg
1/2 teaspoon cinnamon
1/2 teaspoon ground ginger
1/2 cup butter
2 beaten eggs
2 large, ripe bananas
2/3 cup sultanas
1 orange, squeezed to make around 100ml of juice
1. Preheat oven to 180 degrees Celsius.
2. Sift together the baking powder, flour, nutmeg, cinnamon and ginger into a large bowl.
3. Soften the butter a little and rub into the flour mixture until it resembles breadcrumbs.
4. Mix in the sultanas and the egg.
5. Mash the bananas and add to the mixture, along with the orange juice.
6. Spoon mixture into a greased loaf tin.
7. Bake in pre-heated over for or 45 minutes, until firm, risen and golden.
8. Allow to cool.