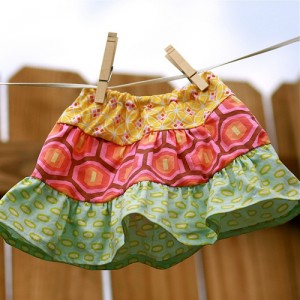 You're nesting and would love to make some clothes for your baby. But you don't even own a sewing machine. You drool over the delightful hand-made baby clothes at specialty shops but can't afford them – especially when you know they will be grown out of in a month.
You can do it! You don't have to have any skill, just a bit of creativity. Here are some ideas to very easily create your own style for your baby without needing a sewing machine. Buy a basic baby outfit in a plain colour and add:
Ribbons or rikrak: For your baby girl, buy small quantities of ribbons in pretty colours. For your baby boy, buy some pieces of rikrak in fun colours. Lay them on the front of your baby outfit in pleasing arrangements and hand stitch into place.
Cloth badges and buttons: Have a look in op shops or at souvenir stores for cloth badges that say something about you. For example, if you're a Queenslander maybe a cloth badge from the Big Pineapple? Stitch it on the front by hand. Find some little buttons that match the colour tone and sew them on along the shoulders.
Potato stamp and non-toxic paint: Do you remember doing these in school? Cut a potato in half, cut a stamp shape into the wet side and blot it on a paper towel. Place a piece of cardboard inside your baby outfit, squirt some non-toxic fabric paint onto a paper plate and start stamping! Add more stamps in different colours and thoroughly dry the fabric when done (in the sun or the dryer).
Iron-on transfers: You can find Australian providers online who will print your own words, or some clipart, onto transfer paper for you to iron onto your baby outfit at home in minutes. Or, you can buy coloured iron-on paper to cut out your own shapes. It is cheap, easy and original. Check out www.wearablewords.com.au.
No sewing appliqué: Head to the patchwork section of your local fabric shop, or find a speciality patchworking store online, and buy a small piece of gorgeous patterned fabric. Also buy a small piece of no-sew bond (an iron-on adhesive that bonds two layers of fabric together without needing to sew the edges). Cut out your fabric into a shape and follow the instructions to iron it on.